When you first look at your French doors to clean them it can be quite intimidating. With a few simple tricks you can get them done quickly and easily.
Get your supplies together ahead of time
Work on the frame first
Reduce the streaks
Extend the cleaning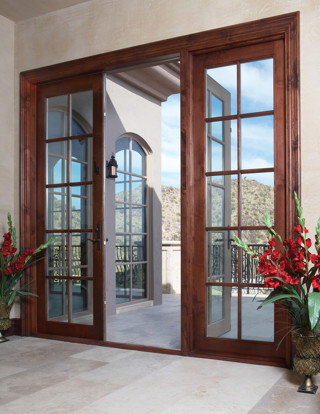 You are going to need a few cleaning supplies that you probably already have around the house. A good scrub brush or toothbrush and some dish soap will help you quite a bit when it comes to the frame part of the French doors. You will need some Windex or a mixture of vinegar and water to clean the window parts. A rag or some newspaper is best for cleaning the windows.
You will want to clean the frame part first. By using the scrub brush or toothbrush you are able to get into the corners and cracks much better. It is important that if you use a dish soap to wash the frame that you make sure to rinse it off completely. An older towel or hand towel is ok to use to dry off the door.
Cleaning the window panes is what takes the longest as there are normally many of them on the inside and on the outside. Both sides should be done to make the French door look its best. A simple cleaning product such as Windex can be used to clean the windows.
A very handy homemade and more natural of a product that you could use would be a mixture of vinegar and water. The vinegar will reduce the streaks on the window panes. You can use paper towels, a wash cloth, or even newspaper to clean the panes.
Newspaper will give you the best outcome. Newspaper does not leave the lint that the paper towels or wash clothes leave and help to provide a more finished look without the streaks. Each pane will need to be done separately. You should start at the top and work your way to the bottom.
To finish off your beautiful French doors, you should use something that will aide in keeping them cleaner longer. You can use Rain X on the outside of the window panes of your French doors. The Rain X will help any water run off much better and often times does not leave the water marks on the windows. By doing this you can extend the length of time between cleanings.
French doors can look amazing when they are cleaned properly. With just a few tricks they can be cleaned very easily. It is so easy that even the kids can help. When you use the more natural cleaning supplies such as the vinegar, water, and newspaper, you can do your housework and let the kids help too without worrying about them getting into any chemicals.