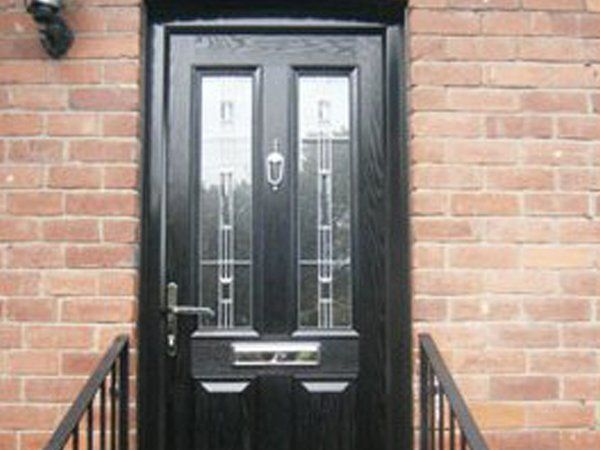 When it comes to choosing the right doors for our homes, it can be a difficult decision. Our front doors are the gateways to our home and act as the first line of defence, but also contribute to overall kerb appeal and aesthetic finish. Whether you're updating your front door, upgrading your entire home or adding an extension which needs to match seamlessly with your existing building, choosing the perfect style of door is a crucial factor.
uPVC doors are a popular choice for homeowners across the UK. They are durable, functional and aesthetically appealing too. However, uPVC doors and windows sometimes get a bad name simply because they are the most low-cost option- but does that have to be a bad thing? With the introduction of innovative manufacturing techniques, it's becoming increasingly difficult to tell the difference between uPVC doors and other styles, so why pay more?
Most common door materials
Before we delve into why uPVC doors are the best choice for your home, we'll first take a look at the most common materials for doors and some of their properties.
● Timber or softwood: Often used for contemporary homes and have a beautiful natural finish. However, timber frames can be difficult to maintain and require a higher budget.
● Hardwood: For classic style in a period home, hardwood doors are ideal. However, they are one of the most expensive options and require a lot of maintenance.
● Aluminium: Aluminium doors aren't the most popular choice because they only really work in a very modern home where a more industrial look suits. They are however the most secure option.
● Composite: Composite doors are becoming increasingly popular and are a great replacement for wood doors in traditional properties. They are a more costly option to their more affordable counterpart, uPVC.
● uPVC: Because of their versatility, uPVC doors work well in both traditional and modern homes and are the most cost-effective choice out of all door materials.
Unless you're willing to stretch your budget, then this list can be whittled down to two options- either composite or uPVC doors. Whilst wooden doors look beautiful, they warp easily and require a lot of aftercare. Aluminium and other metal frame styles may be sturdy, but they aren't the most attractive option and will cost you a pretty penny. But, how do you decide between composite or uPVC for your new front door?
Let's take a look at the many benefits of uPVC doors:
● Energy efficient: uPVC is a high-performance material when it comes to energy efficiency. It has insulative properties which work to retain heat in the colder months and keep the air cool in summer. Whilst wood doors are insulative, they warp easily and so gaps begin to form, allowing draughts in and making your home expensive to heat. With rigid uPVC frames, you'll save money on your energy bills and, more importantly, reduce your home's carbon footprint.
●    Comfortable: Along with saving you money on your energy bills, airtight uPVC doors will also keep your home at the perfect temperature throughout the year. You can enjoy winter evenings without fear of draughts and relax in your conservatory throughout summer without feeling like you're sitting in a greenhouse.
● Fire-safe: uPVC doors will not set on fire nearly as readily as timber or hardwood doors, meaning that they're much safer in the unfortunate circumstance of a fire.
● Less condensation: If you choose to have glass inserts in your uPVC doors, the windowpanes will stay at a warmer temperature because of the insulative quality of uPVC. This prevents water vapour from settling on your windows- a leading cause of damp-related issues which are notoriously expensive to fix.
● Soundproof: Again, if you opt for a glass insert, your uPVC door will come with double glazing, which is known for its soundproofing abilities. Equally, because of the airtight seals and density of the material, uPVC doorframes will reduce noise dramatically.
● Durable: Because wood door frames are prone to warping, they need replacing more regularly. uPVC simply cannot warp and will last for around 20-25 years. uPVC doors will look after themselves; there's no need to varnish, sand or treat them with weather-proofing treatments as a durable finish is built-in.
● Versatile: With uPVC doors, you can achieve a contemporary or traditional design to suit your property. In fact, most homes in the UK have uPVC doors, whatever their style.
Whether you're looking for new windows and doors or you're planning to add a beautiful conservatory to your home, our expert double glazing contractors can make your dreams a reality. We offer robust uPVC frames in a wide variety of styles and finishes so that you can blend your new, functional windows and doors seamlessly with the existing design of your property. We cater to both domestic and commercial customers, so whether you need new skylights for your loft conversion or safe and secure doors at your business premises, we are the company for you.